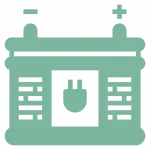 EV Charger
Home Installation
Everything you need to know about installing a charger and compare the best EV charger home installation
EV Salary
Sacrifice Schemes
Salary sacrifice schemes provide significant cost savings for both employers and employees.
---
OZEV Grant Guidance
You may be eligible for a Government grant to part-fund the
installation of your EV charger.

Keep up to date with the Ozev grant changes with our guides and make the most of the funding options available.
---
How to get 3-Phase Power
How do you plan for the installation of a 22kW home charger?

You may need to upgrade your power supply from single-phase to 3-phase. We can help you understand the process, the technology and the issues that impact upgrading your power supply.
---
Portable Charging Solutions
Without a home charging station, you can still charge an electric car directly from your home's 13 amp socket.
---
Join Electric Car Guides EV Focus Group
Are you passionate about electric vehicles? Want to shape the future of EV content? Here's your chance!

Your feedback directly shapes how we select and present content on our platform. Our EV focus group play a pivotal role in deciding which product features are highlighted and compared on our site.

Become a part of our EV Focus Group and be at the forefront of the electric vehicle revolution. Your voice will guide thousands in their EV journey!