Installing a home charging station allows you to fast charge your EV on your doorstep, but can you DIY install an EV charger by yourself or should you leave it to the professional EV charger installation companies?

Let's consider the idea of a DIY EV charger installation, we will explore the considerations, challenges, and potential risks involved in DIY EV charger installations. While some homeowners might possess the necessary skills and knowledge, it's crucial to understand the complexities involved and the potential implications of an improper installation.

Let's dive in and uncover the key factors you should consider before attempting to install your own electric car charger.
Can I DIY install an EV charger myself?
Installing an EV charger yourself is possible, but it requires expertise in electrical work to ensure proper wiring, grounding, and safety measures are followed. It is not recommended that you attempt the DIY installation of an EV charger unless you are an experienced electrician. The 3 main reasons not to install an EV charging station yourself are:
Health and safety risks
You will invalidate the charger's warranty
You are unable to self-certify the installation and must seek approval from the local building control
Our Best Rated EV Charger Installer
Heath and safety risks of installing an EV charger yourself
Installing an EV charger yourself can pose several health and safety risks if not done properly. Some potential risks include electrical shock due to mishandling of electrical components, improper wiring leading to fire hazards, inadequate grounding causing electrical malfunctions, and potential damage to the charger or your vehicle.
In addition, a DIY installation may not meet local building regulations, which can have serious consequences. To mitigate these risks, it's strongly advised to consult a qualified EV charger installer for a safe and compliant installation.

According to the EV fire safety recommendations published by the Fire Protection Association, the key health and safety considerations to bear in mind when installing an EV charger are:
Try to avoid locating a charging unit under canopies or any kind of enclosed roof


Do not locate a charging unit within 15 meters of a hazardous installation, including flammable liquid storage or a home fuel tank


Ensure that the circuit is only for the EV charger and not to be used for another purpose


Do not locate a charging unit within 10 meters of flammable material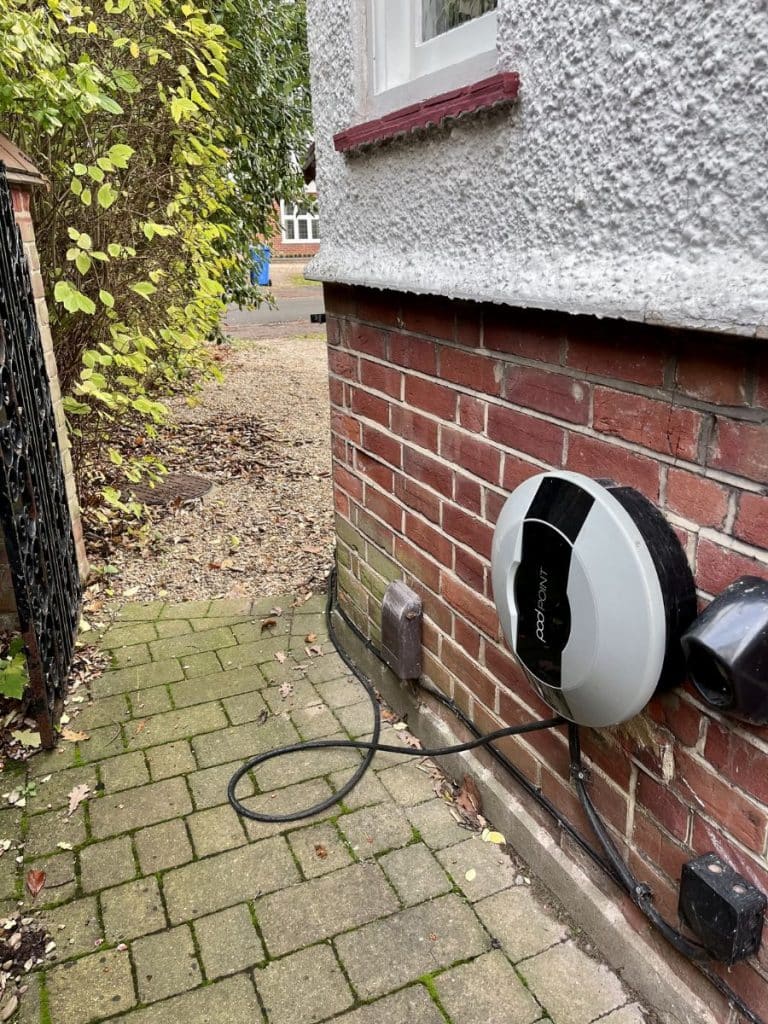 If someone hasn't had direct experience with Fire safety guidelines they may not fully understand the potential risks and necessary precautions. The risk of fire is greater with old electrical wiring and dated consumer units, all equipment should be examined by a trained EV charger installer before completing the work in case electrical supply upgrades are required.
If I install an EV charger myself will building control need to sign it off?
Yes, in the UK, if you install an EV charger yourself, it is generally required to have the installation inspected and signed off by Building Control. Building Control ensures that the installation meets the necessary safety standards and regulations. It is essential to comply with the Building Regulations Part P, which specifically covers electrical installations in dwellings. By having Building Control sign off on the installation, you can have peace of mind knowing that it meets the required safety standards and is legally compliant. It is recommended to check with your local Building Control authority for specific requirements and procedures in your area.

A qualified electrician who is registered with a competent person scheme, such as NICEIC or NAPIT, can self-certify their electrical work, including the installation of an EV charger. This means that they can issue a Building Regulations Compliance Certificate themselves, and there is no need to directly notify Building Control.
Do I need a qualified electrician to install my EV charger?
Yes, you should seek out a qualified electrician who has completed specialist EV charger installation training to install your charging unit. Installing an EV charger involves working with high-voltage electrical systems and requires a thorough understanding of electrical wiring, load calculations, and safety regulations. A qualified electrician will have the necessary expertise to ensure a safe and proper installation, including proper wiring and grounding.

To take an EV charger installation course an installer will have already qualified as an electrician and will have joined a competent person register, allowing them to self-certify electrical work without the need to notify building control. Electricians are not able to join a competent persons register without 2 years of practical experience.

The current EV charger-specific courses that installers should take are provided by City & Guilds, they are:

2921-31 Design and installation of domestic and small commercial electric vehicle charging installations.
2921-32 Design and Quality Assurance of large-scale electric vehicle charging installations.

2921-33 Installation and maintenance of large-scale electric vehicle charging installations.

The route to becoming a qualified EV charger installer is robust and well-designed to protect customers from the risks of unqualified tradespeople. Once an electrician has taken the relevant specialist qualifications they are able to apply for jobs with EV charging companies.
Can I complete the charger installation and bring in an electrician to approve the work?
There is no shortcut to getting the work signed off. No Electrician will be comfortable putting their name and reputation to other people's work, not to mention the possible liability that will be incurred as a result of a health and safety incident.

It is crucial to involve a qualified electrician from the beginning of the installation process. By involving an electrician from the start, you can ensure that the installation is done correctly and safely. Bringing in an electrician after completing the installation may result in additional work, modifications, or even the need to redo the installation entirely if it does not meet the required standards.
Will my charger's warranty be valid if I install the unit myself?
If you decide to install your EV charger yourself you will void any manufacturer's warranty that is in place.

We checked the leading manufacturers' warranty documents, and they all state that professional installation by a qualified electrician is required to maintain warranty coverage.

Here's a selection of manufacturer warranties for you to review:
Zappi Warranty
Ohme Warranty
Wallbox Warranty
It is crucial to follow the manufacturer's guidelines and get a professional installation to ensure both the safe operation of the charger and the preservation of the warranty.
A professional assessment is needed before installing an EV charger
The cost of installing an EV charging unit is high, and therefore not a purchase that you can afford to get wrong. A specialist installer will discuss your requirements with you, they will be able to make sure you are purchasing the correct charger for your EV and your needs.

It's not just the charger that needs assessment, the electricity consumer unit may need to be upgraded to facilitate the new charger and a qualified professional electrician can identify this.
Additional cost if the charger installation goes wrong
Installing an EV charger yourself will save you money on the fees paid to an electrician. What if the installation does not go as planned? You could make a mistake or discover an unexpected complication in what you thought was a simple job.

When you bring an electrician in to fix the issue and install the charger it's likely to cost more than the original cost of installation. Here are some potential additional costs that could arise:
Repairs or replacement
If the installation is faulty or incorrect, it may require repairs or even complete replacement of components. This could involve costs for new wiring, electrical equipment, or charging infrastructure.


Professional intervention
If the DIY installation results in problems or safety concerns, you may need to hire a professional electrician to rectify the issues. Their services would come with associated costs, including diagnostic fees, labour charges, and any necessary materials.


Damage to the charger or vehicle
A faulty installation could lead to damage to the EV charger or, in the worst case, the electric vehicle itself. Repairing or replacing damaged equipment can be costly, and you may also face potential vehicle repair expenses.


Building control
If the DIY installation does not meet building codes you may not get a sign-off on the installation. Therefore you need to spend more money on modifications or upgrades.


Time and inconvenience
Dealing with a faulty DIY installation can be time-consuming and inconvenient. You may need to take time off work or adjust your schedule to address the issues.
Can I get an OZEV grant if I install my own EV charger?
No, currently, the Office for Zero Emission Vehicles (OZEV) EV Chargepoint Grant requires professional installation by an OZEV-approved installer in order to be eligible for the grant. Therefore, if you install the EV charger yourself, you would not be able to access the OZEV grant.

The OZEV grant provides EV owners with an EVHS £350 grant to cover a portion of the cost of installing a new home EV charger. The scheme was updated in March 2022 and is no longer applicable to UK homeowners, however, the grant is still available to flat owners & renters or landlords.

To claim the grant you will need to use an EVHS installer to complete the installation. They will apply for the grant for you and discount the cost of the grant from your final bill, if you installed your charge point then you are unable to claim the grant.
Will a DIY charger installation affect my home insurance?
In a lot of cases, insurance companies will require professional installation by a licensed electrician as a condition for coverage. Review your insurance policy or speak to your insurance provider to understand any specific requirements or considerations related to the DIY installation of an EV charger. They can provide you with accurate information based on your policy and help you understand any implications on your coverage.
The final word on installing an EV charger yourself
Being a DIY god and watching a 'how to install an EV charger' video on youtube does not qualify you to install your home electric car charger. Even if you are completely fed up with always having to get out the granny charger, while a DIY installation of an EV charger is possible it is important to consider the challenges and risks involved:

Electrical expertise is crucial to ensure proper wiring, grounding, and compliance with safety regulations.


Insurance coverage may be affected, and it is important to consult with your insurance provider to understand any specific requirements.

Health & Safety dangers such as electrical shocks or fire hazards, could happen during the installation and in future if the equipment is incorrectly installed.


The warranty becomes invalid, meaning that if any fault occurs (regardless of whether it's a result of the installation) you will not be covered under the warranty.


The project will not be certified by building control so if you try to sell your home in future it is likely that the buyer's solicitors will ask you to provide an EV charger installation certificate for the electrical work.


The project will not be eligible for a grant if it is not completed by an approved installer.


Advice from a qualified installation company is worth paying for, what's the most suitable equipment, type and location for your EV charger?


What is the cost of getting it wrong? When you may have to bring in another electrician to fix things.
Ultimately, the decision to DIY install an EV charger should be compared with the potential risks and the need for expert knowledge. It is strongly recommended to get a qualified electrician to install the charger, this will give you a safe, compliant, and efficient installation.
Our Best Rated EV Charger Installer
John is the Editor and Spokesperson for Electric Car Guide.
With over 20 years of writing experience, he has written for titles such as City AM, FE News and NerdWallet.com, covering various automotive and personal finance topics.
John's market commentary has been covered by the likes of The Express, The Independent, Yahoo Finance and The Evening Standard.