This article takes you through the EV charger installation requirements in the UK, with an in-depth dive into the requirements for each stage of the installation process.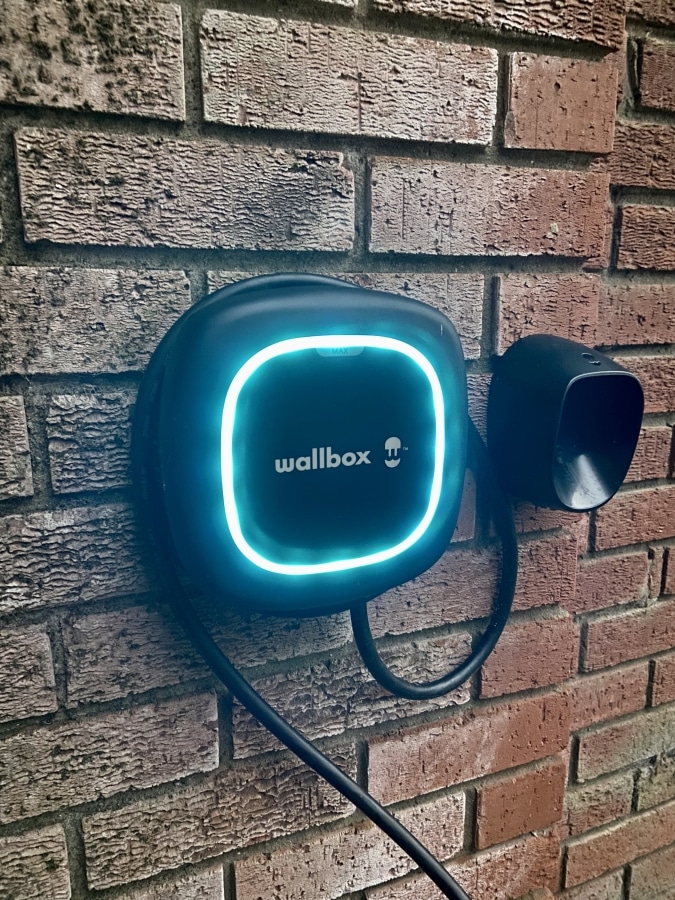 What are the EV charger installation requirements?
The requirements to install an EV charger in the UK are:
Off-street parking must be available (including a driveway, carport or garage)
You should be the legal property owner or have written permission from the owner
Installation is completed by a qualified electrician
The charger will need to be connected to Wifi, this is a requirement for Smart charger functionality
The charging unit is a minimum of 2 metres from a public road
A compliance certificate should be provided by your installer once the unit is in place
There must be accessibility to a fusebox
No upstand that exceeds 2.3 metres is permitted
Our Best Rated EV Charger Installer
Where to Install an EV charger?
Providing you are working within the boundaries of your own property and charging in an 'off-street' area, the requirements for the charger's location really come down to personal preference based on your own requirements.

Considerations for the location of an EV charger include:
Access to the fuse box
The accessibility of your fuse box is a requirement for installing an EV charger. The closer and less complicated the route to your fuse box is, the easier it will be for your EV installation company to complete the work.

EV charger installers typically quote for a standard installation with up to 10m of cabling, if your fuse box is more than 10m from your car the quote will be higher. Some installers, such as ivie, offer longer cabling routes included with the cost of a standard installation:
Access to Wifi
Smart chargers should be connected to an internet connection to allow you to access the charger via an app and manage the charging process. This connection gives your charger the ability to partner with your electricity supplier and only charge your car when the electricity rates are cheaper.

Therefore you will need to test the strength of the Wifi signal in your preferred installation location and consider a Wifi booster if there is a lack of signal.
Which side of the car is your charging port?
The location of the charging port on an EV will differ between manufacturers. For example, Tesla favours a vehicle's rear because this reduces the cable size and is more efficient for charging. In contrast, Ford has always placed their charging port on the front of a vehicle so that the driver will notice it upon entering and be less likely to forget the cable is tethered and just drive off!
Make sure you check which side the charging port is located on your EV model before installation to plan accordingly.
Do you want your Wallbox to be visible from the street?
This is not a practical requirement but an aesthetic decision. Consider how the front of the house will look with an EV charging unit on display and how you (or other decision-makers in the house!) might feel about that.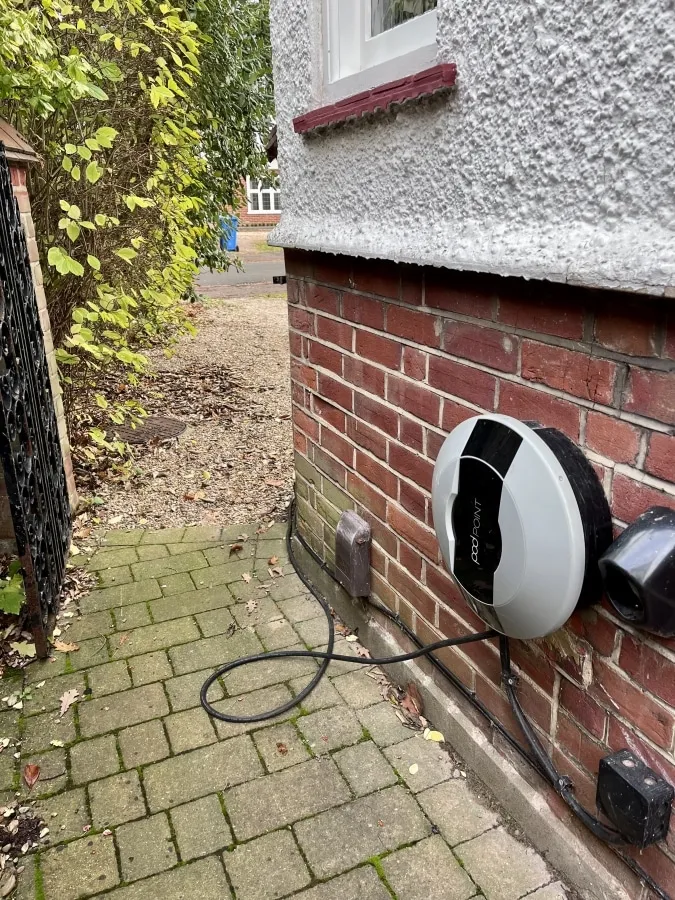 Where not to install an EV charger?
Let's look at where not to install an EV charger.
Not too far from your EV
Measure the distance of your charger's standard cable length and work out exactly where you will park your vehicle to charge, be sure to give yourself plenty of additional wiggle room in case you change your car to a larger model in future.
In rented accommodation or a public place
If you rent your property you may still be able to get permission from your landlord to install an EV charger, but without permission, you cannot legally complete an installation.
Within 2 metres of a public road or footpath
A charging unit should not face a public highway and nor can it be within 2 metres.
EV charger mounting height in the UK
In the UK the minimum height that you are required to mount your EV charger at least 750mm above the ground. The increased height of an EV charger reduces the potential risks of electric shocks and other hazards that may come into play if the charger is too low.

Think about going for a higher mount, up to 1200mm, as it can make things easier when connecting and disconnecting your charging cable. A higher charger is easier to reach, making it better for EV owners with back problems or difficulties bending down.
Can I install an EV charger upstand in my driveway?
You can install an EV upstand on your property in the UK, providing it meets the requirements of being under 2.3 metres tall starting at the level the car is parked on. You are only permitted to install one upstand per parking space.
What are the EV charger requirements for a leasehold property?
Not all leases are the same so there is no hard and fast rule for leasehold properties.

It is common for a lease to specify that the landlord should provide explicit permission for any alterations to the building. There are maintenance considerations for the unit and any external communal parts. Therefore it is important to review your lease and consult with your landlord before scheduling the installation of an EV charger at a leasehold property, you may be obliged to do so under the terms of your lease.
Do you need planning permission for an EV charger?
In most cases, you do not need planning permission to install an electric vehicle (EV) charger at your home. The Town and County Planning Order 2015, states that EV chargers are considered to be 'permitted development', meaning it does not require specific planning permission.

However, there are some circumstances where you might need to consider getting planning permission:
Listed Buildings or Conservation Areas: If your property is a listed building or located within a conservation area, you might need to apply for planning permission.

Flats and Maisonettes: People living in flats and maisonettes may need planning permission to install an EV charger.

Commercial Properties: Businesses might need to obtain planning permission if they wish to install a public charging station, depending on the local council's policies.

Do Building Regulations require me to install an EV charger?
Building regulations require the installation of EV charging points but only for new dwellings. The government is continuing to encourage the UK population to make the switch from petrol to electric vehicles and in June 2022 the building regulation requirements were updated to further encourage drivers to switch.

Document S provides full building regulation guidance for construction companies. This is a lengthy and complex legal document, so here's our summary of the key points for consideration:
What are the Part S building regulations for EV charging?
Building Regulations Part S is a new set of rules introduced in the UK, designed to future-proof homes by insisting that builders make provisions for the installation of electric vehicle charging points.
Under Part S, new homes and existing homes that are being extensively renovated (to create 10 or more dwellings) are required to have EV charging facilities for any associated parking spaces. The regulation also applies to new residential and non-residential buildings, buildings undergoing a significant change of use to become dwellings (like a barn conversion), and mixed-use buildings that are either new or undergoing substantial renovation.
For new homes, the regulations stipulate that there must be an EV charging facility for each parking space equivalent to the total number of dwellings.
A key feature of Part S is the price cap of £3,600, which ensures that installing an EV charger isn't massively expensive. This cap refers to the average cost per charger and applies to new residential buildings but not to changes in use, major renovations involving 10 or more dwellings, or new non-residential buildings. If the cost per charger is anticipated to exceed this cap, cable routes for the charging points must be installed in the associated parking spaces.

Key takeaways about the Part S building regulations and EV chargers:
Part S applies to all new residential and non-residential dwellings, changes of use or major renovations


New residential buildings with associated parking must provide provisions for dedicated EV charging


The full definition of associated parking is found in Part S (for example installing an EV charger in a garage qualifies as associated parking, a driveway qualifies as associated parking, and on-street parking does not qualify)


The total cost of charging port installation is capped at an average price of £3,600 per port, so if your quotation costs are higher you should share this information with the building control body as proof of why you are not able to meet your obligations
What are the Safety Standards for EV charger installation?
The government set a high safety standard bar for both cables and EV charging units. Charge points must meet the following standards to comply with government regulations:
EV charger safety standards
The Open Charge Point Protocol provides the ability to store and communicate electricity usage data


BS 7671 regulations provide the minimum requirements for wiring the unit


BS EN 61851 requires the unit to have a minimum level of protection against the weather

Building regulations part P provide the minimum technical electrical safety standards for UK installations
The final word on EV charger installation requirements
When installing your EV charger the most significant requirements cover where your unit is installed and whether it is installed to the correct safety standards, lets recap:
Off-street parking is a requirement


Legal property ownership is required or written permission from the legal owner


Smart chargers require access to the internet


Units should not be more than 2 meters from a road or 2.3 meters high if on an upstand


If you are building a new home consider the Building Regulations (Part S). These regulations require one charging unit is installed per accessible space.


Multiple safety standards exist that charging units are obliged to meet (including BS 7671, BS EN 61851, The Open Charge Point Protocol and Building Regulations part P).

Our Best Rated EV Charger Installer
John is the Editor and Spokesperson for Electric Car Guide.
With over 20 years of writing experience, he has written for titles such as City AM, FE News and NerdWallet.com, covering various automotive and personal finance topics.
John's market commentary has been covered by the likes of The Express, The Independent, Yahoo Finance and The Evening Standard.