Electric vehicle charging stations are popping up at many UK supermarkets, creating a convenient way for shoppers to top-up charge their EV. It's just as necessary to shop for food every week as it is to charge your vehicle, so supermarket EV charging stations are the perfect combination.

Which supermarkets currently offer free EV charging? You can keep track on this page, updated monthly to keep you in the loop with recent changes to Supermarket EV charging.
Is it free to charge electric cars at supermarkets?
A select number of UK Supermarkets still offer free EV charging. Sainsbury's, Aldi and some Asda stores still currently offer free EV charging for customers. However, most supermarkets, including Co-op, Lidl, Morrisons, Tesco, and Waitrose, charge varying rates between 29p to 75p per kWh (off-peak rates)
Which Supermarkets currently offer free EV charging?
Several supermarkets offer free EV charging (namely Aldi, select Asda stores, and Sainsbury's), the rest charge for the service, with rates varying from 29p to 75p per kWh. Keep in mind that the costs and availability of EV charging at these supermarkets are subject to change, and it's always a good idea to check with your local store for the most accurate information.

We check this list every month, so you don't have to waste your journey in search of free EV charging! Use the table below to check out if your local supermarket offers free EV charging, how much they charge and where are the supermarkets with electric car charging points near you.
When a supermarket lists a price as being 'from' this is typically an off-peak charging rate.

Off-peak hours are when the demand for electricity is lower, often during the night or mid-day. During peak hours, when electricity demand is high (usually mornings and early evenings), the costs for charging will likely increase. The precise times for peak and off-peak rates vary depending on the energy supplier and local demand patterns. Always be sure to check the specific charging policies at your local supermarket's charging network.
Which supermarkets have EV chargers?
According to zap map statistics, there are 1,300 charging stations located in UK supermarkets.

While the number of supermarkets with electric car charging points is impressive, there are actually 7,005 supermarkets in the UK. This means that only about 18% of the total stores from the UK's main brands currently offer facilities to charge their customers' electric vehicles.
Tesco is leading the way with 500 charge points. This is a massive 38.5% of the total number of charging units offered at supermarkets. In March 2022 Inverness was celebrated as the location of Tesco's 500th EV charger. There's little doubt that the number of EV charging stations in supermarkets in the UK will continue to rise, creating a real alternative to the installation of a home EV charging station. Let's take a closer look at the EV charging situation at four of the main supermarkets: Tesco, Asda, Morrisons, and Sainsbury's.
Tescos electric car charging points
As of August 2023, Tescos has installed 2,500 EV charging points at 600 stores, and the money they make is going to be reinvested to help fund and expand their network of charging points.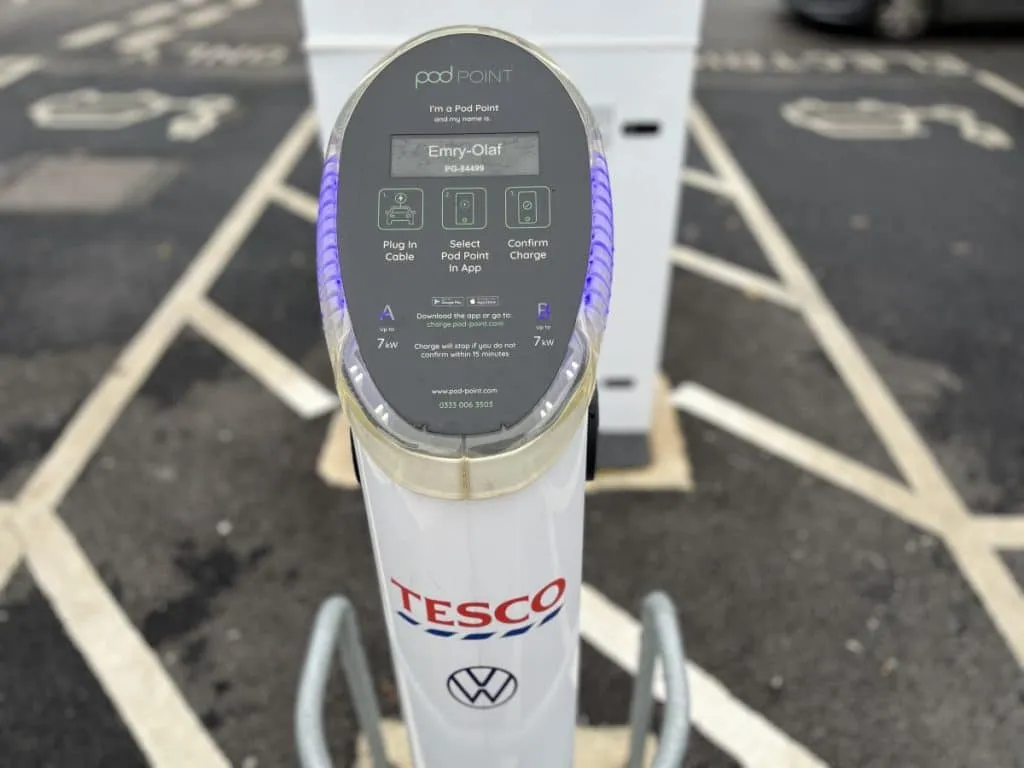 Is Tescos electric car charging free?
Tescos EV chargers are no longer free. Until 1st November 2022, Tesco offered free EV charging for customers. Up to this point, drivers of electric vehicles have driven more than 85 million miles free thanks to their charging stations.
How much does it cost to charge an electric car at Tescos?
Currently, in October 2023, it costs a minimum of 44p per kWh to charge an electric car at Tescos using a 7kW connection.
For 22kW, the price rises to 49p. It costs 62p for Tescos 50kW rapid charges, and for 75kW ultra-rapid charging the price is 69p.
Asda electric car charging points
The government's Office of Zero Emission Vehicles (OZEV) provided EV funding grants to a company called ENGIE, whose ongoing EV charging initiative is working with Asda to encourage EV charging.
Is Asda electric car charging free?
Asda EV chargers are free for shoppers visiting its stores in some locations. Asda and ENGIE launched a free EV charging service. Asdas' network of rapid charge units offers the fastest way to charge your electric vehicle for free.

However not all Asda stores are free, it varies depending on the location. If your local Asda charger is not free you can expect to pay from 75p p/kWh.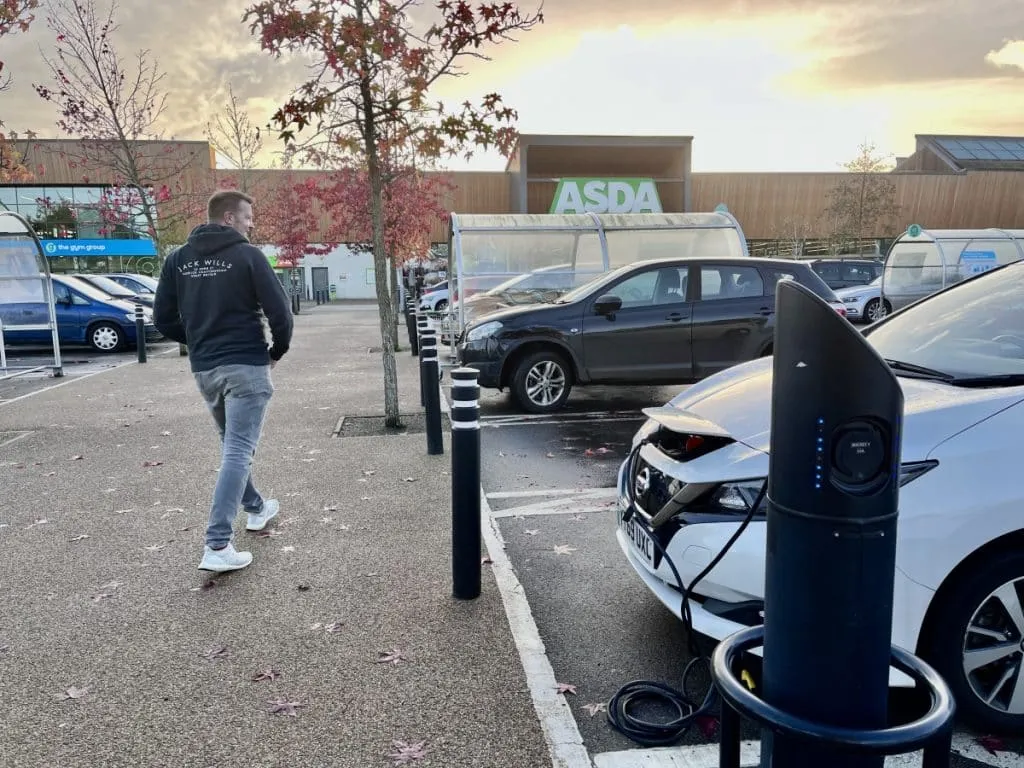 Morrisons electric car charging points
Since 2019, EQUANS has been working with Morrisons in an attempt to make EV charge units more accessible to drivers all across the UK. To date, more than half of all Morrisons stores now have EV chargers by GeniePoint. Morrisons stores now have more than 250 of these charge points, and the majority of them are 50kWh rapid-charge points. In practical terms, this means that consumers can expect to have their EV charged to around 80% after only 45 minutes.
Is Morrisons electric car charging free?
Morrisons charge points are not free to use, all of the GeniePoint EV charge points are accessible via Zap-Pay, the GeniePoint app, contactless payment, and the RFID card. They cost at least 75p p/kWh to use.

In other words, if you're a customer of Morrisons and need your EV charged while you shop, you'll have several ways to pay for the service. Zap-Pay frequently offers drawings that allow three winners each month to get a month of EV charging for free, encouraging the use of these charging stations.
How much is it to charge an electric car at Morrisons?
If you use Zap-Pay: 70p/kWh OR you can pay as you go from 759p/kWh. Off-peak this drops down to 75p/kWh.
Sainsbury's electric car charging points
To date in July 2023, most Sainsbury's stores are using 7kW EV charging points. You can find out where your nearest free Sainsbury's EV charger is by adding your postcode to the Sainsbury's store locator and applying the filter 'electric vehicle charging point'.
Is Sainsbury's electric car charging free?
Sainsbury's offers free charging for any customer shopping in their stores.
How much does it cost to Charge Electric Cars at Supermarkets?
Currently, here are the minimum prices you'll pay to charge your electric vehicle at UK supermarkets:
Aldi – Free in select stores, from 59p per KWh in others
Asda – Free in select stores, from 75p per KWh in others
Coop – From 29p per kWh
Lidl – From 40p per kWh
Morrisons – From 51p per kWh (£10 charge for going over 90 minutes)
Sainsbury's – Free
Tesco – From 44p per kWh
Waitrose – From 45p per kWh
Keep in mind, when considering prices to charge EVs at charging stations, that looking only at the prices is sometimes like comparing apples and oranges. This is because these are basic prices that can vary depending on the specific location and on what type of charging station it is.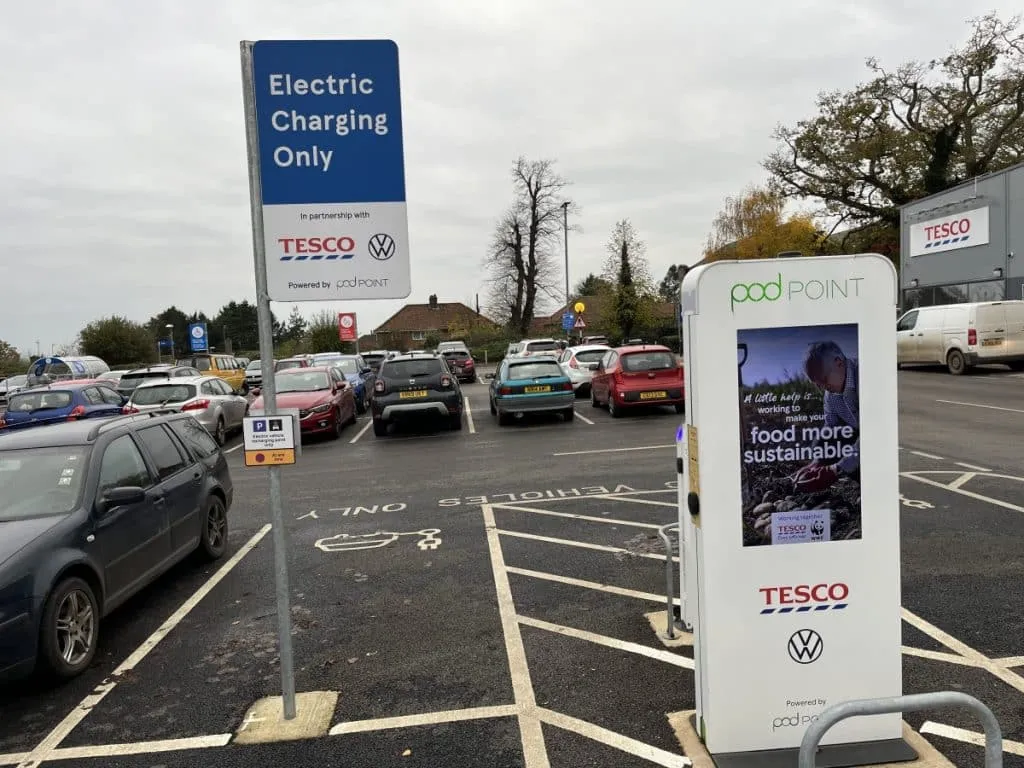 There are two main types of charging stations — destination, designed for people who wish to charge their vehicles while they shop or eat, and on-the-road or rapid chargers, designed to merely top up the vehicle if it is almost all the way charged.
One more tip to keep in mind: these prices can change at any time and may even vary by store. Before you head out in your electric vehicle, it's a good idea to check these prices online to determine if they are still accurate.
Is it free to charge an EV at Mcdonald's?
It is not free to charge your EV at McDonald's, the cost is currently 75p per kWh. McDonald's has initiated a partnership with InstaVolt, aiming to bolster the availability and convenience of electric vehicle charging infrastructure in its UK stores. The plan is to install rapid chargers at new drive-thru locations, and where feasible, at existing restaurants as well.
Is it free to charge an EV at Ikea?
It is not free to charge an EV at IKEA in the UK. The cost to use the EV chargers provided by GRIDSERVE at IKEA stores is 39p per kWh. IKEA has equipped all of its stores in the UK with electric car charging stations, you can search "IKEA" on the GRIDSERVE map to find more information about charger locations, availability and specifications.
How long can you stay at supermarket EV chargers?
How long you can stay at a supermarket EV charger generally depends on the individual policies of each supermarket and sometimes even each supermarket location. Supermarkets don't tend to have a group policy for the duration a vehicle can stay, it varies based on the location of the store, the specific partnership with the charging network provider and the local demand for charging stations.

Most of the time supermarkets align their EV charging time limit with the average time a customer spends shopping. This usually ranges from 1-2 hours but could be longer in some cases. Some supermarkets may enforce a strict time limit, especially during peak hours or in high-demand areas, there are examples of customers being fined for staying too long in charging bays. So be sure to check the policy of the store you are using.
The final word on free Supermarket EV charging
More and more supermarkets are installing EV charging stations at their stores, which allows shoppers to get their cars charged while they shop. It's a huge convenience that makes sense to offer as an incentive for customers to visit the store.

The cost of EV charging varies widely, depending on factors like location, time, the supermarket's policy, and more. Always remember to compare apples to apples by comparing the same types of charging stations when comparing supermarkets.

The energy crisis is the reason Tescos is no longer offering free EV charging and it would not be a surprise if other supermarkets were to follow suit, so always check with the individual supermarket before setting out.

We will continue to update this list monthly to provide you with the most accurate information, helping you plan your shopping and charging.
John is the Editor and Spokesperson for Electric Car Guide.
With over 20 years of writing experience, he has written for titles such as City AM, FE News and NerdWallet.com, covering various automotive and personal finance topics.
John's market commentary has been covered by the likes of The Express, The Independent, Yahoo Finance and The Evening Standard.